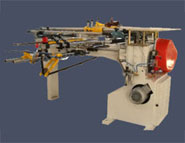 Main Machine
New automatic silk screen decorators with conveyor for silk screen printing of all kinds of ceramic tiles with formats ranging from 4 in. x 8 in. and 16 in. x 18 in.Robust sectional steel structure with leveling legs, designed for installation on all kinds of glazing machines and for repid adaptation to the direction of feed, using the same components.Chains grip the firmly but gently and convey it to the printing position above the work surfance. The height of the entire work surfance can be adjusted with a handwheel.The screen position is micro-metrically regulated by 4 knobs which adjust the two right angled axes.The screen frame is preciely positioned by two reference pins, and is secured rapidly by 4 screws.
Key Benefits : The SHREE RANGAM TOP 101 promises to provide the lowest rejection to the customer because if its auto Screen Clening Alert..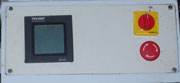 Keyboard Features
The polycarbonate membrance keyboard with VCU is used to program all the machine's variable parameters including
Chain Speed
Inclination of tile acceleration ramp
Forward and Return carrige speed
Choise of operating cycle: continuous, intermittent or repetitive
Glazing pump operating movement (option)
The keyboard can also be used to perform manual operation such as:
Low speed carriage movement
Simulation of automatic carriage cycle
simullation of automatic chain cycl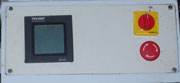 Electronic Contol Unit
Manufactured to the latest operator safely standrads; contains the electric and electronic components of the machine and a ventilation system so that it can be used even under extreme operating conditions.The electronic equipment contains modern components such as IGBT power transistors and is equipped with a smart opwrating system to control the step motors. It is protected against overload and excess voltage.The front panel is fitted with LEDS which display the input/output status, insicate when the motor power and control voltage is switched on anf display overload, thernmal protection
| Features | Benefits |
| --- | --- |
| Mechanical format installation on glazing lines with right/left feed direction. | Gives Flexibility of installation as per your layout of the Glaze Line. |
| Tile position without chipping of edges. | Reduces Rejection of that rises due to chipping |
| Maximum centering precision +0.1. | Designing is heghly precise geveing batch consistency |
| Screen cleaning very safe for operator. | Increases safety of operation. The operator can work without fear. |
| Automatic re-starting of the tile flow, after the silk-screen cleaning operation. | As there is no human intervention required, the accuracy of ioperation and ease are high. |
| Equipped with guards. | |
| Programmable glazing feed batching (Optional). | To automize your production |
THE FOLLOWING FEATURE ARE AVAILABLE ONLY IN SHREE RANAGAM ENGINEERING
PLC Based Operation
It is programmable, the only available in the Industry
Self Diagnosis
Fault Detection and alerts, reduce Rejection.
Automatic Screen Cleaning Alerts
The screen uplifts itself as epr set-up, The operator does not need to remember it each time. reduces Rejection.
Stainless Steel Pipes used for feed pump.
Reduces Rusting and hence reduces maintenacnce costs.